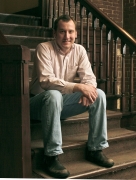 Awards
Lieber Memorial Associate Instructor Award (2007)
About Judson Everitt
Judson Everitt received his B.A. from Wake Forest University in 2000. He then earned his M.A. in 2004, and his Ph.D. in Sociology in 2009 from Indiana University.
Everitt is a Faculty Instructor in the Department of Sociology at Loyola University in Chicago. His scholarly work focuses on the sociology of education, with particular emphasis on teachers' work conditions and training. This allows him to combine his research in education with his teaching practices.
Everitt won first place in the North Central Sociological Association Graduate Paper Competition with his paper "Control in the Classroom and Influence on School Policy: Types of Teacher Autonomy and Teacher Attrition." From Indiana University's Department of Sociology, he was the recipient of the the Glen D. and Dorothy E. Stewart Family Scholarship, and the Edwin H. Sutherland Award for Excellence in and Commitment to Teaching.