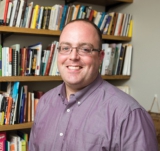 Awards
Lieber Memorial Associate Instructor Award (2007)
About Zak K. Montgomery
Zak K. Montgomery received his B.A. from Kalamazoo College in 2002. He then earned his M.A. in 2004 and his Ph.D. in Portuguese from Indiana University.
Montgomery serves as an Instructor in Spanish at Wartburg University in Iowa.
When Alan, a premed student, entered Zak Montgomery's second-year Spanish class in fall 2004, it was merely to complete the university's foreign language requirement. But Montgomery's teaching fueled Alan's interest in Spanish language and culture, and he asked Montgomery to write him a recommendation for a study abroad program in Seville, Spain.
Alan recently asked Montgomery to write another recommendation, this one for medical school. However, Alan was entering medical school a year later than originally planned-since studying abroad, he had added a Spanish major and spent time working with a nongovernmental organization in the Dominican Republic, using his Spanish skills and his knowledge of medicine to bring dental hygiene supplies and educational materials to remote villages.
That kind of success story is what gives Montgomery satisfaction as an educator. In his view, it is his responsibility to do more than just impart knowledge to students. He strives to help his students connect their educational and personal goals to foreign language instruction, giving them meaningful, practical language skills they can take far beyond his classroom and IU. "My ultimate ambition is for students to invest themselves in some greater goal than just a language requirement," he says.
Montgomery's supervisors in the Department of Spanish and Portuguese praise his ability to engage students and help them understand the benefits of studying a foreign language. "[His] view of teaching . . . reveals a well-rounded and talented instructor who consistently communicates the relevance of foreign language learning to his students," say Emily A. Maguire, assistant professor of Spanish; Silvana Falconi, director of language instruction; and Juan Manuel Soto-Arriví, senior lecturer of Spanish/director of instructional technology, in their nomination letter.
Montgomery takes an interdisciplinary approach to foreign language instruction, bringing elements from across the curriculum into his classes. For example, in Introduction to Spanish Culture, he uses paintings to discuss literary texts such as Cervantes's Don Quixote, while in Intensive First-Year Portuguese, he uses Brazilian and Portuguese lyrics from musical styles such as bossa nova, fado, and forró to demonstrate verb conjugation. "I believe that combining languages and other subject areas such as business, political science, or music in a meaningful way is key to expanding interest in foreign language studies," he says.
Montgomery's efforts to connect with his students have yielded positive results. Students consistently cite his supportive teaching style as one of his greatest strengths. "He engaged the students in an open, friendly manner, yet still kept on task and facilitated good discussions," writes one former student on a course evaluation.
"What I liked most about the instructor was that he treated everyone with respect," writes another former student. "There was no such thing as a stupid question. Everyone felt free to speak in class."
Montgomery's accomplishments in the classroom earned him the 2005-06 Outstanding Associate Instructor Award in the Department of Spanish and Portuguese. But his passion for connecting foreign language instruction to real-world situations has inspired him to go beyond teaching existing courses to creating new ones. In 2006, Montgomery collaborated with the Portuguese program and the IU Center for International Business and Educational Research to design, market, and implement a new course called Portuguese for Business, which combines basic Portuguese vocabulary and grammar with Brazilian business culture. In fall 2007, he will teach Contemporary Spain and Portugal: From Dictatorship to Democracy, an English-language course he designed to introduce residents of IU's Global Village Living-Learning Center to contemporary Iberia.
Montgomery, who earned a bachelor's degree in economics and business from Kalamazoo College, relishes these additional opportunities to help students use their language skills. "It epitomizes why I am in the foreign language field-to help prepare students for the changing global world through heightened awareness and the opportunity for immersion in other cultures," he says.