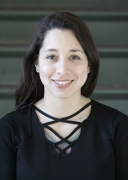 Awards
Lieber Memorial Associate Instructor Award (2005)
About Alicia E. Suarez
Alicia E. Suarez earned her Ph.D. in Sociology from Indiana University in 2006.
Suarez spent two years as an Assistant Professor at Pacific Lutheran University, and in 2008, she joined the faculty at DePauw University as an Assistant Professor of Sociology.
Suarez's teaching and research interests include medical sociology, sexuality, gender, deviance and criminology. Her past research examined illness experience with hepatitis C virus (HCV), a culturally invisible chronic illness. Her current research examines attitudes of persons working in health care towards persons with HCV, and midwifery in Indiana.