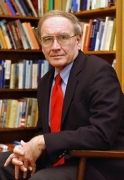 Awards
Pulitzer Prize (2012)

Biography, Autobiography
About John Lewis Gaddis
History professor John Lewis Gaddis won the 2012 biography Pulitzer for "George F. Kennan: An American Life," which was published after nearly two decades of research. In naming Gaddis the winner, the Pulitzer jurors called his work "an engaging portrait of a globetrotting diplomat whose complicated life was interwoven with the Cold War and America's emergence as the world's dominant power."
Prior to winning a Pulitzer, Gaddis' Kennan biography took home the American History Book Prize, earning him $50,000 and the title of American Historian Laureate. He also won the National Book Critics Circle Award.
Gaddis is currently the Robert A. Lovett Professor of Military and Naval History at Yale University. He teaches courses in Cold War history, grand strategy, international studies, and biography, and has published numerous books. He received his Ph.D. in 1968 from the University of Texas and taught briefly at Indiana University Southeast around that same time.