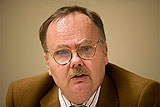 Awards
Fulbright Award (2011)

Sweden
About Ulf Jonas Bjork
Ulf Jonas Bjork received a certificate from Stockholm Institute of Journalism in 1978, and his B.A. in Communications from the University of Washington in 1980. He then earned his M.A. in 1984 and Ph.D. in 1987 in Communications from the University of Washington.
Bjork has served as Assistant Editor at the Eastern Business Magazine (English-language trade journal) in Sweden, a Creative Consultant for Geamatic Company in Seattle, a News Editor and Announcer for the Swedish Broadcasting Corporation, and a Reviewer for American Journalism. He has also served as a Teaching Assistant for the Department of Journalism at Stockholm University, and for the School of Communications at the University of Washington, and an Assistant Professor for Midwestern State University. Bjork was appointed to the Indiana University-Purdue University in Indianapolis School of Journalism's faculty in 1988, and is presently a Professor of Journalism.
Bjork is a member of the Association for Education in Journalism and Mass Communications, the American Journalism Historians Association, the Society for the Advancement of Scandinavian Studies, and the Swedish-American Historical Society.
Bjork recieved a Fulbright Fellow for the 2011-2012 academic school year at Uppsala University in Sweden as the Fulbright Uppsala Distinguished Chair in American Studies. He will teach a course in U.S. mass media and collaborate on a book project about the Americanization of Sweden with colleagues at the Swedish Institute for North American Studies.