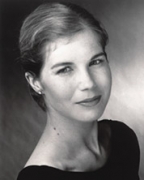 Awards
Fulbright Award (2011)

Hungary
About Lynn Hooker
Lynn Hooker earned her M.A. in 1994, and her Ph.D. 2001 from the University of Chicago.
Hooker is presently an Assistant Professor and Director of Undergraduate Studies in the Department of Central Eurasian Studies, and an Adjunct Assistant Professor in the Department of Folklore & Ethnomusicology and in Musicology at Indiana University Bloomington.
Hooker's research interests focus on music and modernism in Hungary and in the careers of Béla Bartók and Franz Liszt, Eastern European minority issues related to the Roma (Gypsies) and the minorities of Transylvania, gender in music & dance, national, transnational, & global identities as seen though music. Hooker is the author of From Liszt to Bartók: Redefining Hungarian Music.
Hooker received a Fulbright Fellowship for the 2011-2012 academic year and will research the role of Romani (Gypsy) musicians in Hungarian society, especially during the socialist period. She will conduct oral history interviews with musicians, do archival research on the nationalization of the music industry and observe present-day music events.