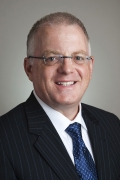 Awards
Fulbright Award (2011)

Istanbul, Turkey
About Richard L. Shockley
Richard L. Shockley received his B.S. from the University of Virginia in 1984, and earned his Ph.D. from Indiana University in 1992.
Shockley is the CenterPoint Energy Faculty Fellow and an Associate Professor of Finance at Indiana University Bloomington.
Shockley received a Fulbright Fellowship for the 2011-2012 academic year and will spend the spring on the faculty at Boğaziçi University in Istanbul, Turkey. While in Turkey, he plans to study how the structures of Islamic financing arrangements affect the liquidity, stability and scale of a banking system.
Shockley has also been the recipient of Phi Beta Kappa Teaching Prize and Halliburton Scholar from Rice University in 1994, and the Du Pont Research Grant from Indiana University in 1998 & 1999. He was Business Week's Guide To Business Schools "Outstanding Faculty" in 2000 and an SBC Fellow (formerly Ameritech Fellow) in 2003. From Indiana University, Shockley was a finalist for the Trustees Teaching Award in 2001 & 2005, a recipient of the Trustees Teaching Award in 2003, 2004 & 2006, and the Ford Motor Company Teaching Fellow from 2001 to 2006. Also from the Kelley School of Business at Indiana University he received MBA Teaching Excellence Award in 1998, 1999, 2001, 2002 & 2007, the Teaching Excellence Recognition Award in 2000, the Competitive Research Grant in 2000, 2002, 2003 & 2005, the Productivity-Based Research Grant in 2004, and the Kelley Direct Teaching Excellence Award in 2006.