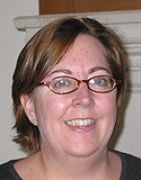 Awards
Fulbright Award (2011)

Moscow, Russia
About Regina Smyth
Regina Smyth earned her Ph.D. from Duke University in 1997.
Smyth has taught at Penn State University and Harvard University before coming to Indiana University in 2006. Presently, she is an Associate Professor of Political Science and a faculty member in the Workshop of Political Theory and Policy Analysis at Indiana University Bloomington. She has taught courses on Russian and Soviet Politics, Democracy and Elections, Comparative Democratic Institutions, Comparative Parties and Party Systems, Voter Turnout, and West European Politics. Her teaching interests extend from her research.
Smyth's research explores the relationship between democratic development and electoral competition by focusing on candidates, political parties and party systems in post-Communist states. Her work is based on original data collection that has been supported by the National Science Foundation, Social Science Research Council, Smith Richardson Foundation, and the National Council for Eurasian and East European Research. Her book Candidate Strategies and Electoral Competition in the Russian Federation: Democracy without Foundation, published in 2006, explains the failure of Russian democracy in terms of the factors that impeded cooperation among candidates and party leaders and failed to produce a viable opposition to the ruling party. Her study of Russian party organizations examines the inability of parties' to articulate coherent policy positions or frame policy debates. Her current work on party and party system consolidation across the post-Communist states examines the processes that produce congruence between key political alignments or power centers and partisan competition. Professor Smyth's work has been published in Politics and Society, Comparative Politics, and Comparative Political Studies.
Smyth received a Fulbright Fellowship for the 2011-2012 academic year and will be affiliated with the Department of Political Science at the Higher School of Economics in Moscow, Russia. While in Russia, she will continue her research on the effect of electoral competition on regime development in Russia, observing the 2011-12 parliamentary and presidential election cycles.