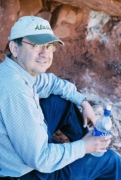 Awards
Fulbright Award (2011)

Lima, Peru
Fulbright Award (2003)

Peru
About Desiderio A. Vasquez
Desiderio A. Vasquez received his B.S. in Physics from the Universidad Catolica del Peru in 1982, and earned his Ph.D. in Physics from the University of Notre Dame in 1989.
Vasquez is an Associate Professor of Physics at Indiana University-Purdue University in Fort Wayne.
Vasquez received a Fulbright Fellowship for the 2011-2012 academic year and will contribute to the development of a Computational Nonlinear Science Program at the Pontificia Universidad Católica del Perú in Lima.