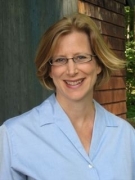 Awards
Fulbright Award (2011)

Mainz, Germany
About Rachel M. Wheeler
Rachel M. Wheeler received her B.A. from Carleton College in 1991. She then earned her M.A. in 1993, and her Ph.D. in 1998 from Yale University. She is an Associate Professor of Religious Studies at Indiana University-Purdue University in Indianapolis.
Wheeler's research interests focus on American religious history, colonial American history, and Native American religions. She is the author of To Live upon Hope: Mohicans and Missionaries in the Eighteenth-Century Northeast Cornell University Press from 2008, Articles in Religion and American Culture: A Journal of Interpretation, Religion and American Culture: A Reader, Church History: Studies in Christianity and Culture, The Journal of the Early Republic.
Wheeler received a Fulbright Fellowship for the 2011-2012 academic year and spent the year teaching in the American Studies Department at the Johannes Gutenberg University at Mainz, Germany. She also is working on a full-length biography of a Mohican-Moravian man named Joshua, 1742-1806, who lived through the religious revivals and wars of the 18th century. She is also the recipient of the NEH Fellowship for College Teachers from 2000 to 2001, and the Indiana University President's Arts and Humanities Initiative in 2004.