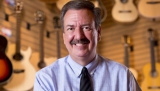 Awards
Honorary Degree (2012)

L.H.D.
Doctor of Humane Letters
IPFW Commencement
Fort Wayne, Indiana
About Charles J. Surack
Charles J. "Chuck" Surack is a life-long musician and entrepreneur who has given much to the community. The business savvy, passion for music, and philanthropic spirit at the heart of Surack's success today as founder and president of Sweetwater (one of the nation's leading music technology and musical instrument retailers) have been prevalent throughout his life. As a musician, he toured with a number of professional bands, bought a four-track reel-to-reel recorder, loaded it into the back of a Volkswagen bus, and began recording bands in the Fort Wayne area. Surack founded Sweetwater as a recording studio in his home in Fort Wayne in 1979. Today, the company is headquartered in an 180,000-square-foot facility on the city's far west side.
Surack believes in finding the time to give back to the community. He has served on the boards of the Fort Wayne Philharmonic, Northeast Indiana Public Radio, Unity Performing Arts Foundation, Tower Bank, and other organizations, and is currently a board member for Easter Seals Arc of Northeast Indiana, the Fort Wayne Children's Zoo, Fort Wayne Mayor Tom Henry's Kitchen Cabinet, the Boy Scouts of America Advisory Board, Lutheran Hospital, and Lutheran Health Network.
Through sponsorships, equipment, and expertise, Sweetwater demonstrates its commitment to the Fort Wayne music and arts community. At no cost to the public, the company regularly presents workshops, clinics and performances by the likes of Stanley Clarke, Arturo Sandoval, Adrian Belew, Joe Satriani, Victor Wooten, Alan Parsons, Bruce Swedien, Ken Scott, and Edie Kramer- to name only a few.
Incredibly, there are approximately 300 organizations that benefit from the generosity of Surack and Sweetwater. They include the Fort Wayne Philharmonic and its Pops Series, the Foundation for the Arts and Music in Elementary Education (FAME) Festival, the marching bands appearing in the city-wide annual Three Rivers Festival, The Embassy Theatre Foundation, Arc/Easter Seals, Junior Achievement, ABNI/ABOI radio, Fort Wayne Children's Zoo, Fort Wayne Children's Choir, Arts United of Greater Fort Wayne, Community Harvest Food Bank, and Fort Wayne Women's Bureau. Sweetwater provides major funding for the music technology programs at Indiana University-Purdue University Fort Wayne and the University of Saint Francis.
Surack's excellence and integrity are widely noted by community and academic associates. Fort Wayne Mayor Tom Henry notes, "Chuck Suracl epitomizes the best about Fort Wayne. He's hardworking, innovative, constantly in pursuit of excellence, imbued with the entrepreneurial spirit, and deeply committed to his community in every possible way." Michael Landram, president and CEO of the Greater Fort Wayne Chamber of Commerce comments, "Chuck leads the business community by example. His entrepreneurial expertise allows him to implement cutting edge ideas and give back to his community through countless charitable contributions."
Professor Jeffrey Hass of the Center for Electronic and Computer Music at the IU Jacobs School of Music has known Surack for nearly 30 years. Hass says, "Chuck's commitment to music education, particularly in the field of music technology, is of premier importance to him. We can always call him, day or night, to help with a problem, to pressure his industry into giving us the tools we need, to offer us his employees' time to come down to Bloomington if we want- at no cost to us- just because he wants our students to have the best experience possible. Chuck is personally a very generous financial supporter of our IU Bloomington program, as well as a benefactor to the Indiana University-Purdue University Fort Wayne music technology program. His commitment to education is unparalleled among his music technology peers."
Sweetwater has garnered many industry awards, including Inc. magazine's list of the 500 fastest-growing private companies three years in a row; the Music Inc. magazine REX Award for excellence in retailing; and the local Better Business Bureau 2006 Torch Award. For all that Surack has accomplished to improve the lives of so many in northeast Indiana through his business acumen, public service, and support of the arts and education, Indiana University is proud to confer upon him the Doctor of Humane Letters.