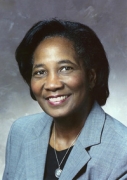 Awards
Distinguished Alumni Service Award (2019)
IUPUI Maynard K. Hine Medal (1988)
About Lillian S. Stokes
Lillian G. Stokes, PhD, RN, FAAN, the director of the IU School of Nursing's (IUSON) Diversity and Enrichment Program since 1996, served a two-year term as the president of the national Chi Eta Phi Sorority, Inc. Stokes served as vice president from 2003-05, as well as editor-in-chief of the organization's journal for four years prior and has been an active participating member for over 36 years. In addition, Stokes has facilitated raising hundreds of thousands of dollars in scholarship monies for minorities through her work within Eta Chi Chapter of Chi Eta Phi Sorority and other community groups. Specifically, she inaugurated a Spring Fling variety show as the Eta Chi Chapter service project, which annually brings together talented health professionals for the purpose of raising monies for minorities to attend area nursing schools.
An associate professor at IUSON who has been a member of the faculty since 1972, Stokes is also a highly regarded national leader in the development of culturally competent care. IUSON has been the beneficiary of her leadership as she has spent almost the last decade developing creative programs on cultural competency to showcase the range of subject matter of concern to today's nurses. In addition, as another example of her influence in the larger community, Stokes will be one of several individuals to be "roasted" at the 2006 Celebrity Barbecue and Grille, hosted by the Indianapolis Chapter of The Links Incorporated, a community service organization.
Stokes earned her bachelor's degree from North Carolina Central University and her master's and doctoral degrees from Indiana University in Bloomington. Prior to teaching at IUPUI, Stokes served as a staff nurse at several hospitals in Virginia, Illinois, and Indiana. Active in many community and nursing organizations both locally and across the nation, she is a member of the American Nurses Association, the Indiana State Nurses Association, the National League for Nursing, the Indiana Citizens League for Nursing, Alpha Kappa Alpha Sorority, Sigma Theta Tau, the Midwest Nursing Research Society, Links, Inc., Coalition of 100 Black Women and Witherspoon Presbyterian Church.
She received a Distinguished Service Award at the 15th Annual Black Chamber of Commerce, Orange County Awards Banquet, 2006, in Anaheim, California, for her leadership role as president of Chi Eta Phi Sorority, Inc. This Distinguished Service Award is given to recognize individuals who have directly contributed to increasing the quality of life of African-Americans and other minorities in an exemplary way. Stokes has also received numerous honors throughout her career including the 2001 Distinguished Alumni Award from North Carolina Central University, Fellow in the American Academy of Nursing in 2001, the American Nurses Association's Mary Eliza Mahoney Award in 2000, the 1998 Distinguished Hoosier Award from Governor Frank O'Bannon, and the Madame C. J. Walker Outstanding Woman of the Year from the Center for Leadership Development in 1996. She has published two books that have been widely used as textbooks in leading schools throughout the U.S., Canada and Australia. She has also published chapters in books related to health care in the African-American community.