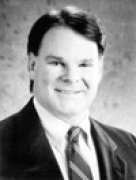 Awards
IUPUI Athletics Hall of Fame (1994)
IUPUI Spirit of Philanthropy Award (1990)
IUPUI Maynard K. Hine Medal (1989)
About Michael A. Carroll
Michael A. Carroll was inducted posthumously and was a founder and longtime president of the Metro Athletic Club, a community-based organization dedicated to the support of the IUPUI athletic program.
Carroll, a former vice president of Lilly Endowment Inc. is considered to have been one of IUPUI's strongest and most committed supporters until his untimely death in 1992. The Michael A. Carroll Student Athletic Endowment Fund has been established to help IUPUI foster programs of scholastic and athletic achievement, develop leadership skills among student athletes and install in them a commitment to public services. Without Mike Carroll's dedication to IUPUI, our athletic program would not be where it is today.
It is therefore fitting that Michael A. Carroll was inducted as a charter member of the IUPUI Athletic Hall of Fame.