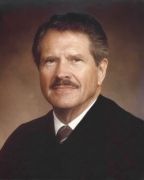 Awards
IUPUI Maynard K. Hine Medal (1994)
McKinney School of Law Distinguished Alumni Award (1982)
About Robert H. Staton
Robert H. Staton was born in Indianapolis on April 7. He graduated from Arsenal Tech High School before serving his country during World War II. From 1943 to 1946, Robert served with the 91st Infantry Division of the Fifth Army and was attached to the 801 Special Combat Force which specialized in reconnaissance work behind enemy lines. He achieved the rank of major and was awarded numerous medals for his bravery, including a Silver Star, two Bronze Stars, and the Distinguished Flying Cross.
Following the war, Robert returned home and enrolled at Indiana University, where he earned his undergraduate degree in 1952. In 1955, he received his law degree from Indiana University School of Law - Indianapolis. After graduation, he spent three years as a Deputy Prosecuting Attorney in Marion County, eventually holding the position of Chief Trial Deputy Prosecutor. He then entered private practice and founded the law firm of Staton & Ward. Robert was involved in politics and ran for the 10th District Congressional seat in 1966. As part of that campaign, he was especially proud of his historical walk across the entire state of Indiana.
Judge Staton had a distinguished career as an attorney, jurist, and author. He was elected to the Indiana Court of Appeals in November 1970 and served on the bench from January 1, 1971 until his retirement on March 15, 2000. During that time, he authored more than 3,000 majority opinions. Judge Staton was the first editor of Res Gestae, the law journal of the Indiana State Bar Association and frequently published articles in legal journals. He authored several state legal histories, including "The History of the Court of Appeals of Indiana" and "Lessons Learned: The History of Continuing Legal Education and Experiences from Mandatory Continuing Legal Education States." Judge Staton was also the Chairman of countless Indiana Continuing Legal Education Forum Update and Appellate seminars. He was a member of the American Bar Association, past president of the Indiana State Bar Association, and the Chairman of the ISBA specialization committee.
Judge Staton was President of the IU Alumni Association. He served on the Executive Council for Indiana University, representing the law school. He also served on the law school's Alumni Association Board of Directors from 2004 to 2007. The Intramural Moot Court Competition at IU School of Law - Indianapolis is named in his honor. He received the title of Life Honorary Editor of the Indiana Law Review. For many years, he served on the Board of Directors for the YMCA of Greater Indianapolis. Judge Staton received many awards and accolades during his lifetime. Judge Staton was awarded two Sagamores of the Wabash. Aside from his illustrious career, Judge Staton was, first and foremost, a loving and devoted husband, father, and grandfather.