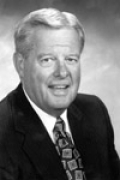 Awards
IUPUI Spirit of Philanthropy Award (2018)
IUPUI Athletics Hall of Fame (1999)
IUPUI Maynard K. Hine Medal (1996)
About Hugh A. Wolf
Hugh A. Wolf earned her Ed.D. Indiana University-Purdue University in Indianapolis in 1971.
Wolf's career with IUPUI was significant for many reasons. From 1970 to 1973, he served as the Dean of Students before spending the next twenty years as IUPUI's top administrator at the School of Education. From 1975 to 1993, Wolf served as IUPUI's Faculty Athletic Representative and chairman of the Athletics Advisory Committee. In 1993, he became the director of intercollegiate athletics, retiring in 1996.
"From my earliest experiences with IUPUI, I could see the potential, and it has meant a great deal to me to see so much of that potential realized."
The father of three distinguished himself as a Sagamore of the Wabash (1996), as well as recipient of the Maynard K. Hine Alumni Leadership Award (1996) and the Glenn W. Irwin, Jr., Experience Excellence Award (1998). A resident of Carmel, he has been active in various community endeavors and since 1982 has served as president of the State of Indiana Selective Service Board 34.
"It has been a privilege to be a part of the IUPUI family, a family that continues to make a difference," concluded Wolf.