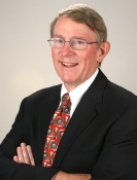 Awards
IUPUI Spirit of Philanthropy Award (2019)
IUPUI Athletics Hall of Fame (2012)
IUPUI Maynard K. Hine Medal (1999)
About William N. Kulsrud
Long-time Kelley School of Business faculty member William N. (Bill) Kulsrud earned a 2012 Hall of Fame induction for his outstanding service to the department as the Faculty Athletic Representative to the NCAA, a role in which he served from 1993 through 2007. His ties to the IUPUI Athletics Department began in 1982 when he joined the Intercollegiate Athletics Advisory Board, and he later chaired the Athletics Advisory Committee beginning in 1993. Kulsrud was instrumental in the program's rise from NAIA to NCAA Division I status and he was the chair of the Visual Identity Committee which changed the nickname to the present-day Jaguars and devised a new logo to coincide with the move to Division I play in 1998. Kulsrud also served on a number of administrator and coaching search committee including chairing the committee that hired Ron Hunter in 1994 and current AD Mike Moore in 1996.
In the classroom, Kulsrud earned IU's Chancellor's Award for Excellence in Teaching in 2006 and the Maynard K. Hine Alumni Achievement Award in 1999.
Kulsrud, who joined the IU Kelley School of Business in 1979, was a member of the Pan American Games Committee in 1987 when the games were played in the Circle City and largely hosted on the IUPUI campus. He becomes the fourth meritorious inductee into the IUPUI Hall of Fame.