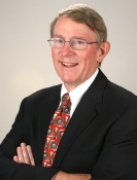 Awards
IUPUI Spirit of Philanthropy Award (2019)
IUPUI Athletics Hall of Fame (2012)
IUPUI Maynard K. Hine Medal (1999)
About William N. Kulsrud
A long-time Kelley School of Business faculty member and 2012 IUPUI Athletics Hall of Fame inductee, Bill's outstanding service to athletics is highlighted by a 15-year term as the department's faculty athletic representative to the NCAA and his instrumental role in the program's rise from NAIA to Division I status. Bill also served on the Pan American Games Committee in 1987, leading to the construction of Carroll Stadium and the Natatorium.
As a committed volunteer, Bill was a member of the Athletics Advisory Board, chaired the Intercollegiate Athletics Advisory Committee, and participated in many search committees, including the hire of Hall of Fame men's basketball coach, Ron Hunter.
Bill's philanthropic dedication to the department includes over 25 years of consecutive giving in support of IUPUI student-athletes and various fundraising initiatives, including the Michael A. Carroll Memorial Golf Outing. The Department of Intercollegiate Athletics is pleased to honor Bill Kulsrud for his service and generosity.