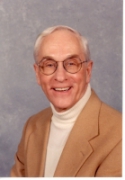 Awards
IUPUI Spirit of Philanthropy Award (2009)
IUPUI Maynard K. Hine Medal (1999)
About James R. East
James R. East was a native of Indiana. He graduated from Indiana Central College (now IUPUI) in 1953 with a Bachelor of Arts in English and Latin. He then went to Stanford University, where he earned a Master of Arts in 1958 and a Doctor of Philosophy in 1960. Both degrees were in Rhetoric and Public Address.
Following his doctorate, Dr. East taught for three years at Stanford University. He then taught at San Francisco State University, where he was on a tenure track. Dr. East left San Francisco State to teach at two liberal arts colleges in Iowa for six years. After that appointment, he moved to Indianapolis, where he taught for 29 years and served as Associate Dean of Liberal Arts until his retirement in 1996. While on the faculty and as a charter member of the International Listening Association, he taught a listening course in the Department of Communication Studies for 25 years.
His service at IUPUI was marked with innovations. successfully guided the Regional Campus of IU in developing curriculum that would allow students for the first time to complete degrees in Indianapolis, and following the merger of the Purdue and the IU campuses into IUPUI, he successfully marshaled the campus through accreditation by the North Central Accreditation Association for full accreditation separate from Bloomington. Dr. East also founded IUPUI's Weekend College, which is the world's largest program offering college courses on Friday evenings, Saturdays, and Sundays. He served as Dean of the Weekend College for 14 years, earning him two awards from the Central Indiana Community Service Council, along with a 2002 Indianapolis Mayor's Community Service Award. Dr. East was also recognized internationally for pioneering the "Learn and Shop" movement. An innovation in higher education, Dr. East originated the concept of offering college-credit courses and degree programs in shopping centers, which provides access to for many who would otherwise be unable to achieve higher education.
Dr. East's commitment to service and education extended beyond his work at IUPUI. He supported many organizations, especially including the Boys & Girls Clubs of Indianapolis. Dr. East had joined the English Avenue Boys' Club at the age of 5 and continued supporting the organization for the rest of his life. or 35 years, Dr. East served as a volunteer member of the Board of Directors of the Boys & Girls Clubs of Indianapolis until 2006. During that period, as chairman of the organization's scholarship committee, he organized and directed the Boys & Girls Clubs of Indianapolis Scholarship Program, the largest such program in the more than 4,000 Boys & Girls Clubs throughout the United States. What is now called the Boys & Girls Clubs of Indianapolis James R. East Scholarship Program is now endowed in excess of $1,200,000. In 1950, at the age of 19, he was one of four boy members throughout the United States representing the Boys' Clubs of America at the Mid-Century White House Conference on Children and Youth, hosted by President Harry S. Truman. In 1970, he was a featured speaker at the annual meeting of the national Boys' Clubs of America in Boston, Massachusetts, substituting for astronaut Neil Armstrong who was forced to cancel at the last minute as a result of an assignment with the Space Agency. Over the years, the Boys & Girls Clubs of Indianapolis bestowed its highest honors on him: Leadership Achievement Award (1985), its first Distinguished Alumnus Award (1990), the prestigious Horatio Alger Award (2003), and the Martha Stiers Board Leadership Award (2006).
Even after his retirement, Dr. East continued serving IUPUI as a volunteer, teaching college-credit listening courses without pay for 11 years; coordinating Bookmarks, the popular, non-credit book-reading program; and serving two years as the president of the IUPUI Senior Academy, a campus support organization of retired faculty and staff.