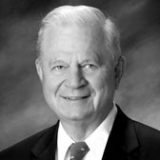 Awards
IUAA President's Award (2010)
IUPUI Maynard K. Hine Medal (2000)
School of Dentistry Distinguished Service Award (1991)
About Robert N. Modlin
Robert N. Modlin earned his D.D.S. in 1959 from Indiana University-Purdue University in Indianapolis. He retired in 1998 after working nearly 40 years as a dentist.
Modlin serves on the board of directors of the West Central (Indiana) Chapter of the IU Alumni Association and is a Hoosiers for Higher Education community captain. A lifetime member of the IUAA, he is a founding member of the West Central Chapter and served as its secretary and then as president for two terms. Modlin also is a past president of the IU School of Dentistry Alumni Association. He represented the school on the IUAA's Executive Council from 1994 to 2000 and again from 2005 to 2006.
He has received the IU School of Dentistry Alumni Association's Distinguished Service Award, IUPUI's Maynard K. Hine Medal, and the IUAA President's Award. He lives in Lafayette, Indiana, with his wife, Nancy (Binford), AS'58.