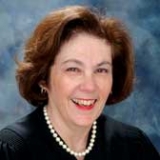 Awards
McKinney School of Law Distinguished Alumni Award (2014)
IUAA President's Award (2010)
IUPUI Maynard K. Hine Medal (2001)
About Margret G. Robb
Judge Robb is a magna cum laude graduate of IU McKinney, and is the first woman to serve as Chief Judge in the history of the Indiana Court of Appeal. She was appointed to the state's intermediate appellate court in 1998 by Governor Frank O'Bannon. She has been an officer of the Indiana State Bar Association (ISBA), a Fellow of the Indiana State Bar Foundation, Tippecanoe County Bar Association, National Association of Women Judges, and the Bankruptcy Section of the ISBA. She also serves on the board of the IU McKinney Alumni Association.
Judge Robb also has been a board member of the Appellate Judges Counsel of the American Bar Association, the Indianapolis Bar Association (IBA), the Indianapolis Bar Foundation, the Senior Council Section of the IBA, the Appellate Practice Section of the ISBA, and the Appellate Judges Education Institute, among others. Judge Robb chairs the Indiana Supreme Court Task Force on Family Courts, and has chaired the task force for the development of local trial court rules. She was founding chair of Governor Otis Bowen's Commission on the Status of Women.
Among the honors she has received, Judge Robb was a recipient of a 1993 ISBA "Celebrating 100 years of Women in the Legal Profession Award," the Maynard K. Hine Distinguished Alumni Award for service to IUPUI and IU in 2001, the ISBA's Women in the Law award in 2005, the IU Alumni Association's President's Award in 2010, the IBA's Women and the Law Committee's Antoinette Dakin Leach award in 2011, and the Indiana Commission for Women's Torchbearer Award for 2014; she was also honored as a Trailblazer – one of only five other women singled out for this designation – for her contributions to Indiana and the law.