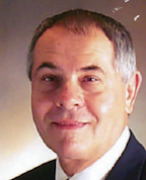 Awards
School of Dentistry Distinguished Alumni Award (2001)
About Charles Tomich
Charles E. Tomich is Professor Emeritus of Oral and Maxillofacial Pathology at the Indiana University School of Dentistry. He retired from Indiana University on December 31, 2001 after 32 years of teaching oral pathology, oral histology, and general pathology. Currently, he maintains a private
practice of diagnostic oral and maxillofacial pathology at the Dermatopathology Laboratory in Indianapolis.
Tomich received his dental degree from Loyola University in New Orleans in 1961. He was then commissioned in the U.S. Public Health Service and served a dental internship in San Francisco. He served 5 years as a dental officer in the Divisions of Hospitals and Indian Health with assignments in Virginia,
New Mexico, and Montana. In 1966, Tomich (Chuck or "Dr. T" to almost everyone) and his wife Jackie and their three children came to Indianapolis
where he began his specialty training. Upon completing his training in oral pathology in 1969, he was offered a position on the IU School of Dentistry faculty by the late Dr. William G. Shafer.
During his 32+ years on the faculty he received 25 teaching awards including an Amoco Foundation Outstanding Teaching Award in 1977 and the Distinguished Teacher Award from the IUSD Alumni Association in 1989. In 2001 he was honored with the IDA IUSD Pursuit of Excellence Outstanding Teacher of the Year Award. Also in 2001, he was honored by the IUSD Alumni Association as a Distinguished Alumnus. In 2004, he received an honorary
doctorate from the University of Montreal for his contributions to the specialty of oral and maxillofacial pathology.
Tomich has been very active in the American Dental Association and in both the American Academy and the Board of Oral and Maxillofacial Pathology. In the ADA, he served on the Advisory Committee for Advanced Training in Oral and Maxillofacial Pathology for 12 years and chaired it for nine of those years. He was on the ADA National Board Testing Committee for 8 years. Tomich served on the ADA Commission on Dental Accreditation for 6 years, during which time he was almost solely responsible for achieving representation of each dental specialty on the Commission. He considers that to be one
of his more important achievements. Tomich has been the President of both the American Academy and the American Board of Oral and Maxillofacial Pathology. He was the secretary/treasurer of the Board for 6 years, the Editor of the Academy for 6 years, chaired the Fellowship committee for two years, and as the Academy's parliamentarian for 5 years.