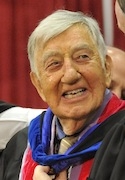 Awards
School of Dentistry Distinguished Alumni Award (2005)
About Joseph Karpinski
Joseph Karpinski (DDS'48) is a retired oral and maxillofacial surgeon of Auburn, N.Y. A past president of the American Association of Oral and Maxillofacial Surgeons and a graduate of the University of Pennsylvania's oral and maxillofacial surgery residency, Karpinski received IUSD's 2005 distinguished alumnus award for leadership in his specialty and for his extensive and tireless humanitarian work providing medical services and supplies to hospitals in Poland during the years of Communist rule.
He was awarded the first Honorary Doctor of Humane Letters to be bestowed by the State University of New York's Cayuga Community College in 2012.
Honored for his service to both the college and the Auburn community, he received the degree with 680 associate's degree graduates during the college's 58th commencement. A former trustee of the institution, Dr. Karpinski spearheaded the creation of the Cayuga Community College Foundation in 1982, serving as its first president for four years. His generous support of the college has included the establishment of several scholarships and the college's Karpinski Rotunda. In June 2012, the college announced that a lead naming gift from Dr. Karpinski will enable the college to pursue the building of a $6 million facility that will be named the Dr. Joseph F. and Honey Karpinski Athletic Stadium Complex.