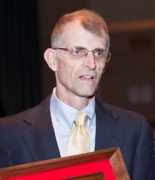 Awards
IUPUI Spirit of Philanthropy Award (2013)
School of Dentistry Distinguished Alumni Award (2010)
About Kenneth E. Braun
When Dr. Kenneth Braun attended the IU School of Dentistry's commencement last May to join his family in welcoming niece Amanda Braun (DDS'10) into the dental profession, he didn't expect to become a part of the ceremony himself.
In a pre-planned surprise, IUSD Alumni Association President Phillip Conn (DDS'78), Danville, Ill., stepped to the podium to bestow a Distinguished Alumnus Award on the Rockport, Ind., dentist. While visiting with family and friends afterward, including his wife, Carol Jean Braun (DDS'84, Cert'86 Pediatric Dentistry), Ken expressed his deep gratitude with the humility he was well known for.
Dr. Braun's death only seven weeks later was an enormous blow to everyone who knew and loved him, and to all of us who had looked forward to his assuming the presidency of the IU School of Dentistry Alumni Association this September after nearly a decade of outstanding service in other board positions.
The IUSDAA shared this gentleman with many other organizations. He held a term as president of the First District Dental Society and served on its executive council, attained Mastership in the Academy of General Dentistry, and presided over the Spencer County Sheriff's Department Merit Board among other community leadership roles. He participated in a dental mission to the Dominican Republic through the Timmy Foundation in 2005.