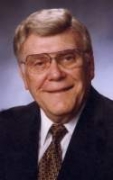 Awards
School of Dentistry Honorary Member Award (2003)
About Clyde Parker
Clyde Parker was a dentist who practiced in Evansville for forty-four years, retiring in 1990. After graduating from the University of Louisville School of Dentistry in 1947, Parker moved to Evansville and opened his practice.
In the Evansville dental community, Parker served as a president of the Evansville Dental Society and the Indiana Dental Association. He also was a trustee of the American Dental Association and a member of the International College of Dentists. Parker was inducted into the Pierre Fauchard Academy and as a IUSD Alumni Association Honorary Member.
Outside of his career, Parker was an acclaimed college basketball player, having started for University of Kentucky before being inducted into the Army Medical Corps in 1943. After the war, he was a 3-year starter on the University of Louisville's basketball team, and was inducted into the university's Sports Hall of Fame in 1982.