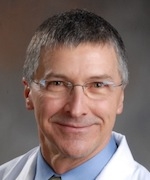 Awards
IUPUI Maynard K. Hine Medal (2013)
School of Dentistry Distinguished Service Award (1997)
About Kenneth Hyde
The IUSD Alumni Association's board of directors welcomed new president Dr. Kenneth Hyde, a Valparaiso, Ind., orthodontist and longtime contributor to the board in 2010. The board's officers asked Hyde to serve the president's term that was to have been Dr. Kenneth Braun's before he passed away.
Hyde holds three degrees from IU, including a bachelor's in zoology from the IU Bloomington campus (1972) and dental and graduate orthodontic degrees from the IU School of Dentistry (1975 and 1979, respectively). Practicing primarily in Valparaiso since 1977, Dr. Hyde has also held an appointment on the IU dental faculty since 2008 as a volunteer clinical assistant professor in the Department of Orthodontics and Oral Facial Development. He makes the round-trip between Valparaiso and Indianapolis on a monthly basis to share his expertise in his specialty with students. Hyde is president of the IU Orthodontic Alumni Association and a past president of the IU School of Dentistry Alumni Association and the Indiana Association of Orthodontists.
He is a diplomate of the American Board of Orthodontics and a past president of the Indiana Association of Orthodontists. Hyde has been involved with the IUSD Alumni Association for decades and is best known among the alumni as the talented bicyclist who leads reunion participants on bicycle tours at the fall conference each year (originally around the IU Bloomington campus and more recently around Eagle Creek park in Indianapolis). He has been a licensed amateur bicycle racer since 1980.