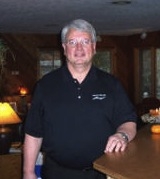 Awards
School of Dentistry Distinguished Service Award (2009)
About Daniel W. Fridh
Daniel Fridh is a dentist in La Porte, IN, He graduated from IU with a B.A. in biological sciences in 1972 and a D.D.S. in 1975. Fridh soon received a general practice residency with the United States Air Force in May 1975, completing it at Keesler Air Force Base in Biloxi, MS a year later.
He became the chief of dental operations at Baudette Air Force Station in Minnesota and later served the same role at Finley Air Force Base in North Dakota. During his time with the USAF, the Air Force adopted his dissertation on the effects of fluoridation as an official publication. At Baudette, Fridh helped establish a certified dental assistant training program and was awarded a medal for meritorious service from the USAF.
Fridh is active in both the dental and local community. He is a past president of the Northwest Dental Society and the La Porte County Dental Society. He has served on the IUSD Board of Directors, and is a fellow in the International College of Dentists. In La Porte, Fridh is the current chairperson of the La Porte Hospital Dental Staff and a member of its executive committee. He also cofounded the Neutral Zone of La Porte, a teen community center.