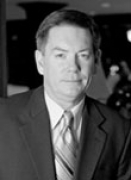 Awards
School of Dentistry Certificate of Appreciation (1986)
About Danny R. Dean
Danny R. Dean is the president of the Indianapolis-Marion County Public Library Foundation which he has led since November 1992. Previously, he was an assistant dean and director of development at the Indiana University School of Dentistry.
Currently, Dean serves as Vice President of the Allen Whitehill Clowes Charitable Foundation and is on the board of directors of the Finish Line Youth
Foundation. He is a member of the American Library Association and has served as President of the Indiana State University Alumni Council. Dean is a
former board member of the Indiana Council of Fundraising Executives and served as President of the Indiana Council for the Advancement and Support of Education.
He is a graduate of Indiana State University, earning both a B.S. and a M.S. from the university.