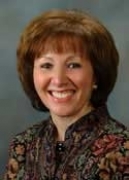 Awards
School of Dentistry Certificate of Appreciation (1989)
About Gail F. Williamson
Gail F. Williamson, RDH, MS is a tenured Professor of Dental Diagnostic Sciences at Indiana University School of Dentistry in Indianapolis, Indiana. She is a 1974 dental hygiene graduate of Indiana University School of Dentistry and holds a Baccalaureate degree in Allied Health and Master's degree in education both from Indiana University. Williamson is the director of the Allied Dental Radiology Program and oversees the didactic and clinical instruction of dental assisting and dental hygiene students. She is the recipient of numerous teaching awards, most recently the 2009 IUPUI Trustee Teaching Award. In addition, she presents numerous continuing education programs locally, regionally, and nationally on Oral and Maxillofacial Radiology.
A published author of articles and textbooks, Prof. Williamson most recently co-authored Radiographic Imaging for the Dental Team, 4th Edition, with Dr. Margot Van Dis, Dr. Dale Miles and Ms. Catherine Jensen. Active in professional organizations, she is Past President of the Indiana Dental Hygienists' Association, Central Indiana Dental Hygienists' Association, the Theta Chapter of Sigma Phi Alpha Dental Hygiene Honor Society and former Chairman of the Council on Member Services of the American Dental Hygienists' Association. In addition, Prof. Williamson has served as Councilor of the Section on Oral and Maxillofacial Radiology, as an officer on the Council of Section Administrative Board of the American Dental Education Association and Councilor of Academy Affairs of the American Academy of Oral and Maxillofacial Radiology.
Currently, Williamson serves on the American Dental Association Joint Commission on National Dental Examination as a radiology expert on the National Board Dental Hygiene Test Construction Committee B, Case Studies.
As of July 1, 2009, Williamson was appointed as Faculty Fellow for Faculty Advancement Initiatives in the Office of the Executive Vice Chancellor and Dean of the Faculties. Prof. Williamson will focus on Faculty Enhancement through Promotion and Tenure workshops and faculty mentoring as well as leadership development for school academic administrators. The Academic Affairs Faculty Fellow position is a half-time appointment for two years.