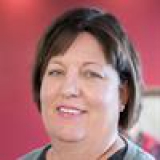 Awards
IUPUI Spirit of Philanthropy Award (2018)
School of Dentistry Certificate of Appreciation (1999)
About Karen Deery-Jones
Karen Deery-Jones is the senior director of alumni programs at the Office of Alumni Relations, in which she works with different alumni associations of the schools and programs at IUPUI. Jones works with the alumni associations of the School of Social Work, Division of Labor Studies, School of Dentistry, Pediatric Dentistry Alumni Association, Orthodontic Alumni Association, Periodontics Alumni Association, and the General Studies Alumni Association. For her work with the IUSD alumni, Jones received the Certificate of Appreciation in 1999.
Her late husband, Stan, was known to say, "Change at the margins will only produce marginal change." It is in this spirit that Jones continues to create decidedly significant change for undergraduates.
In Stan's honor, Karen established the Stan Jones Memorial 21st Century Scholars Scholarship. Her work not only honors her husband's legacy of commitment to the greater good, but helps bring about considerable measures to improve education in Indiana.
Karen Deery-Jones is leading the impact made on undergraduates in the 21st Century Scholars program at IUPUI. Her incentives improve retention and quality of life for students, and her actions set the model to follow in creating real-life learning opportunities. Division staff say they are honored to work alongside this change-maker in the lives of students and in the work of faculty and staff.