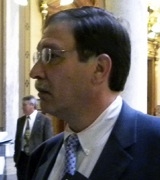 Awards
School of Dentistry Certificate of Appreciation (2010)
About Edward Popcheff
As the Indiana Dental Association's director of governmental affairs, Ed Popcheff has been the voice of advocacy for Hoosier dentists for 15 years.
He secured a 119% increase in Indiana Medicaid dental reimbursement rates in the Indiana General Assembly, obtained state funding for the Indiana Donated Dental Services program, and tripled the dollars for political action committee fundraising. He has drafted legislation for policy issues of importance to the dental community and has testified before the Indiana General Assembly on such topics as Medicaid funding and small business issues.
Popcheff works with IU's dental students through multiple initiatives to give them a sense of what advocacy means to them and to their future in dentistry.