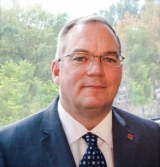 Awards
Distinguished Alumni Service Award (2016)
School of Social Work Distinguished Alumni Award (2002)
About Richard Reed
When disaster strikes anywhere in the world, chances are that an Indiana University graduate will be on hand to coordinate relief efforts. Richard A. Reed is hailed as one of the U.S. government's foremost experts and leaders in the field of disaster response for more than 20 years.
"What it really boils down to is if your town is devastated by a flood or tornado, or a new strain of flu threatens a pandemic, Richard Reed will be your best friend, even if you never hear his name," said President Barack Obama in a letter of support for Reed's DASA.
Reed, who holds three IU degrees, spent 20 years working for the federal government in a number of high-ranking positions, including six years at the White House for two presidents. He now leads corporate emergency management and continuity at Saudi Aramco.
Guided throughout his career with a strong desire to help people, Reed started his professional life at the VA Medical Center in Indianapolis, where he secured a grant and helped to design, implement and open Indiana's first transitional housing development for homeless veterans.
As he moved on to service in the federal government, he wrote policy for effective disaster programs and played roles in relief efforts in a coal mine explosion in West Virginia, the devastating earthquake in Haiti, oil spills, hurricanes and tsunamis, and disease pandemics.
"What is most remarkable about Mr. Reed is that no matter what level of endeavor he is engaged in, the basic interest that motivated him to become a social worker holds true today -- to find a way to improve the human condition," said Michael A. Patchner, dean of the IU School of Social Work, from which Reed holds two degrees.