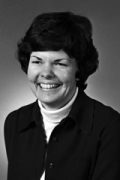 Awards
Bicentennial Medal (2019)
IUB Athletics Hall of Fame (2012)
Leanne Grotke Award (2008)
About Leanne L. Grotke
Leanne L. Grotke Andreas graduated from Bowling Green State University, where she played basketball and field hockey. Soon thereafter, she arrived at IU in 1967 as the coordinator of intramural and extramural women's sports. At that time, the women's teams shared one set of uniforms and each intercollegiate team received just $150 for the year. Leanne was a champion for improving women's athletics. She was an outspoken advocate for the teams, which at that time included field hockey, basketball, tennis, golf, softball, volleyball, swimming/diving and gymnastics.
In 1969, Grotke played a pivotal role in establishing IWISO, the Indiana Women's Intercollegiate Sports Organization. The foundational premise behind the IWISO was that competitive sports would enhance women's college experience, and the organization offered competitive opportunities to highly skilled female athletes. The guidelines were simple: the program should be supervised by a faculty member in the Department of Physical Education, qualified women should teach, coach and officiate athletic contests, and that funding for women's sports at all levels---intramural, extramural and intercollegiate---should come from the university. Under the guidance of Grotke and faculty sponsor Anita Aldrich, the IWISO grew. Regional boards developed and in 1971, the Association for Intercollegiate Athletics for Women was organized. The Athletics Committee with the encouragement of IU Athletics Director, Bill Orwig brought the women's program into the Athletics Department from the Women's Physical Education Department.
In 1972, Title IX legislation was passed, and during the 1973-74 school year, and once again, there was Leanne Grotke, who was named the first full time Associate Athletic Director for Women's Athletics in the Big Ten. Active in state, regional and national governing bodies for athletics, she was the Midwest representative on the AIAW Board and later became Commissioner for all AIAW's National Championships. Her experience and presence on the national stage lifted IU women's athletics to a newly, pre-eminent level. During that time, Leanne took the unprecedented step of hiring a female trainer, Marj Albohm, and IU became the first institution in the Big Ten with a coed training room. Better funding and visionary leadership launched Indiana University Women's Athletics ahead. While Leanne was at IU, women's athletics competed for many state, regional and national championships. She was the leading advocate for women's athletics on the national stage.
Leanne Grotke ushered in the era of women's varsity sports at IU. A native of Destin, Fla., Grotke came to IU after graduating from Bowling Green State University and served as coordinator of IU women's athletics and Director of Women's Sports from 1972-79. Leanne oversaw the transition of women's athletics from school of HPER to athletic department. She earned a Master's Degree from IU in 1966. Leanne also served as AIAW Commissioner for National Championships in 1966. Grotke worked for 26 years in athletic administration at Cal State Fullerton. The Grotke Award is named in her honor and it recognizes living I Women who, as alumnae, have made exceptional contributions to the women's athletic program at IU Bloomington. It is the highest honor of its kind given by the university.