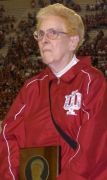 Awards
IUB Athletics Hall of Fame (2017)
Leanne Grotke Award (2011)
About Isabella Hutchison
Isabella Hutchison was a pioneer for women's athletics since her high-schools days in Bloomington, IN. Isabella was the first woman to receive a scholarship from the Girl's Athletic Association at Bloomington High School. She then attended Indiana University, earning her Bachelor of Science in Physical Education and Recreation in 1959 and her Master's in Health and Safety in 1963. During her athletic career, Isabella competed in basketball, field hockey, softball, volleyball, tennis and badminton where she was an All-Star in team sports and champion in tennis and badminton.
Post-graduation from Indiana University, Isabella continued her athletic career as a player-coach in the Class B Florida Women's Athletic League in volleyball, basketball and softball. In 1965, she arrived on the campus of the University of Miami tasked with beginning a women's intramural sports program. A position which leads her to be called the founder of the University of Miami women's athletic program. As Title IX became reality, Isabella was responsible for building the Miami women's athletic department into the forefront of all major universities by creating a full recruiting program for women's sports. Due to her accomplishments with the Hurricanes, Isabella was named Director of Women's Athletics in 1977.
In 1979, Isabella left Miami and returned to her Alma Mater as Athletic Director for Women's Sports at Indiana University until she eventually retired in 2000. Under her guidance at IU, the women's athletic department flourished in tennis, golf, track & field, cross country and softball. All consistently ranked in the nation's top 20. In addition numerous women achieved national and conference championships and were awarded All-American and All-Conference status. Arguably, her most notable accomplishment was the conception of the I-Women's Club to recognize women's athletics throughout the university's history.