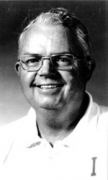 Awards
IUB Athletics Hall of Fame (1999)
Bill Orwig Award (1975)
About Floyd L. Grow
Floyd "Red" Grow, who was inducted into the 1999 IU Athletics Hall of Fame, was the Hoosiers' equipment manager from 1946 until 1983, a span of 37 years. He worked for IU Building and Grounds before becoming the equipment manager.
Floyd was inducted into the IU Hall of Fame, and was named an honorary "I" member. He was a counselor and friends to many IU coaches and student-athletes, and often the first friend to any former IU student-athletes. Grow's devotion to IU and his friendship to all he touched cannot be surpassed.
The outgoing Grow was born in Bloomington and attended Bloomington High School. He began working for Indiana University after fighting in World War II for the U.S. Army. Floyd had his hands in two of the most spectacular highlights in Indiana athletics: the 1968 Rose Bowl and the last NCAA undefeated men's basketball team in 1976.