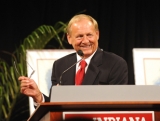 Awards
Bicentennial Medal (2019)
Bill Orwig Award (1986)
About Don Fischer
The legendary "Voice of the Hoosiers" Don Fischer has been named Indiana Sportscaster of the Year (2012) by the National Sportscasters and Sportswriters Association for the third straight year. It marks the 26th time in Fischer's 39-year-tenure as Indiana University's football and men's basketball radio play-by-play man that he has been recognized as the state's top sportscaster and the 22nd time by the National Sportscasters and Sportswriters Association. He has now won the honor four times in the past five years.
Fischer has won numerous awards for best play-by-play performance, and he has been honored by Indiana University with the J.W. Bill Orwig Medal, which goes to non-alumni for distinguished service to the university. He also has been named an honorary "I" Man. In October 2010, Fischer was one of eight inductees into the Indiana Broadcast Pioneers Richard M. Fairbanks Hall of Fame. The Indiana Sportswriters and Sportscasters Association inducted Fischer into its Hall of Fame in 2004.
Fischer has done the play-by-play for more than 1,600 games, including those during three NCAA basketball championships and eight bowl games. He hosts the weekly coach's show for both football and basketball and a daily radio show, "IU Sports Today," which is syndicated throughout the state. Fischer has also anchored the Indianapolis Colts pre-season telecasts for the past 17 years.