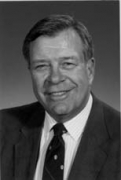 Awards
Bill Orwig Award (2000)
About William G. Mallory
William G. "Bill" Mallory was Indiana University's head football coach from 1984-96. He has the most wins of Indiana University's football coaches, having compiled a 69-77-3 record. Before taking over the head coaching reigns at Indiana in 1984, Mallory coached three other schools to national prominence.
While compiling a 165-121-4 record at Miami (Ohio), Colorado, Northern Illinois, and Indiana, Mallory became one of only a handful of coaches in history to guide three different programs to top 20 finishes in national polls. In 1987, Mallory became the first coach to be awarded back-to-back Big Ten coach-of-the-year honors.
While at Indiana, Mallory led the Hoosiers to six bowl games including victories in the 1998 Liberty Bowl and the 1991 Copper Bowl. He also led IU to a top 20 ranking in 1988.