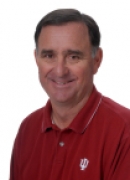 Awards
President's Medal for Excellence (2018)

Excellence Academy Dedication
Bloomington, Indiana
Presenter: Michael A. McRobbie
Bill Orwig Award (2001)
About Lin Loring
No coach in Division-I women's tennis history has more wins than Indiana's Lin Loring. 2018 is his 34th season at the helm of the IU women's tennis program and he has posted 761 wins heading into this year. Loring has mentored the Hoosiers to 16 Big Ten crowns in 34 years. In addition, his team had a string of 104 consecutive victories against Big Ten opponents over an eight-year period from 1978-1985 and has had 12 undefeated conference seasons. On 75 occasions, a Hoosier has been named to an All-Big Ten team, including Leslie Hureau and Evgeniya Vertesheva in 2011.
In 2006, Loring earned his 300th victory against Big Ten competition with a 5-2 win at Wisconsin. He is the winningest coach in conference history, with a 336-92 (.785) record against Big Ten competition. His teams have also had the same success on the national level, as IU has appeared in 27 NCAA Championship tournaments. During his tenure, Indiana has produced one national team champion, two national singles champions and one national doubles title. On 25 different occasions his athletes have earned All-America honors, including Hureau during the 2011 season. He became the first and only Division-I women's tennis coach to reach 700 career wins with a 6-1 win over Miami (OH) on Jan. 20, 2008. During his 33 years at Indiana, he has compiled a mark of 719-270 (.727). He owns a career mark of 762-287, good for a winning percentage of .726.
A graduate of the University of California-Santa Barbara, Loring came to Indiana in 1977 after four years of guiding Santa Barbara's women's teams into the Top 20. He inherited a losing program, but engineered his non-scholarship UCSB squads to 17th-, ninth- and 14th-place national finishes his last three seasons. Loring wasted little time putting the Hoosiers into the national spotlight, as he had his team ranked in the top 20 in just his second season in Bloomington. That 1979 nationally-ranked campaign began a string of 17 straight seasons that Indiana found itself among the nation's top 20 teams.
While at Indiana, Loring has gained a reputation as a coach first, recruiter second. Many programs have assistants run practices while head coaches recruit full-time. That is not the case at Indiana, as Loring's philosophy is to spend time with the players already on his team. He has been successful finding players who will suit his program and blossom while at IU. Five of Loring's All-Americans were not ranked among the top 70 nationally when recruited. Loring quickly earned regional recognition as he was honored with the inaugural Midwest Coach of the Year award in 1981.
The 1982 season saw a record 39 victories and saw Indiana win the AIAW National Championship, the first women's national championship in Indiana history. The championship brought more recognition for Loring as he earned Big Ten, Midwest and National Coach of the Year honors. During the 1991-92 season, Hoosier players posted a perfect singles record of 69-0 in Big Ten action. In the dual match season, they were 54-0, and during the Big Ten Championships, they were 15-0. He again was named Big Ten Coach of the Year in 1988, 1992, 1995 and 2007 and Midwest Coach of the Year in 1989, 1991, 1992, 1995 and 2004. In 1992, he won his second National Coach of the Year honor after leading IU to a 22-4 dual meet record and a national ranking of 10th. In 2001, Loring received the Bill Orwig Medal (former IU athletic director), which recognizes a non-alumnus for unique and significant contributions to IU's athletic program from the IU Alumni Association. He was also honored at the 2000 Intercollegiate Tennis Association National Convention with the Rolex/ITA Meritorious Service Award for his service to collegiate tennis.
Loring's on-court numbers are astonishing, but his off-court success may be even more impressive. Every one of the women who has played four years under Loring has earned a degree. Loring has served his sport well, not only by maintaining a nationally competitive program, but also through playing an administrative role. He has held elected positions in the Southern California Athletic Association and has been chairperson of the Indiana Tennis Committee and the Midwest Tennis Committee. He was twice elected to the four-member National Tennis Committee and chaired that group in 1980-81. He currently serves on the Board of Directors for the Intercollegiate Tennis Association and is the chairperson of the Women's National Team Indoor Championship.
Loring is the founder and director of the ITA Collegiate Summer Circuit, which consists of collegiate regional circuits spread across the country in July with a wild card to the ITA All-American Championships up for grabs at the national tournament in August.