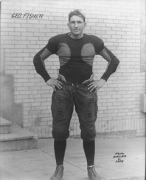 Awards
Z.G. Clevenger Award (1963)
About George L. Fisher
George L. Fisher was born in 1901 in Jackson County, Indiana. He graduated from high school as a basketball star, and attended Indiana University in 1921. During college he was a member of All-Big Ten Tackle, Big Ten and All-Conference Wrestling Champion. He broke the standing record in shot put and was chosen to play in the first East-West Shrine Game in San Francisco, California in 1925. Fisher played pro football with the Cincinnati Nationals, 1928-1929 and with Wabash, Hammond and Indianapolis, 1930-1933.
During Fisher's time at IU, his two brothers, Scott and Walter, joined him; all excelling in the same sports and playing on the same team when George was a senior. Between the three brothers, they earned 26 "I" letters and the athletic field at Warsaw was renamed "Fisher Field" in his honor in 1952. He and his family were honored guests at the East-West Game at San Francisco, where the team met for their 30th reunion. In 1961, Fisher Day at IU was attended by all 3 brothers and their families; the day was sponsored by Lambda Chi Fraternity. Fisher received IU's highest athletic award, the Zora Clevenger Award, two years later.
Fisher began coaching in 1926, coaching at Warsaw High School for 27 years. He coached football, basketball, and track for 15 years, and football and track for 12 years, and was hired as athletic director the year before he retired from coaching, in 1952. His coaching honors include the Warsaw basketball team going to State Semi-Finals in 1936; two years later, two of his former athletes played in the Big Ten at the same time (John Widaman and David Rankin). In 1951, Fisher received the Warsaw High School Band Presentation of the Gold Football Trophy for his 25 years of coaching.