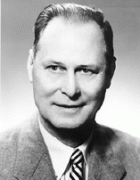 Awards
IUB Athletics Hall of Fame (1989)
Z.G. Clevenger Award (1964)
About Frank E. Allen
Frank Allen came to Bloomington from Summitville, but not directly out of high school. Allen played three years of high school football as a halfback, then worked the next four years and spent some autumn time playing end on an amateur team.
He was 23 when he played as a sophomore tackle on the 1914 Indiana team. He moved back to end under coach Clarence Childs as a junior, then graduated the next spring with a degree in geology. Allen went on to a rich career in education. He coached basketball and football at New Castle, then moved to Muncie and built the Bearcats into a football power. In South Bend, he advanced to superintendent of schools and drew credit for the number of bright young coaches brought into the public school system there.
Allen's contacts with his alma mater remained strong. From 1940 to 1954, he served on IU's Board of Trustees. That board picked him to move Bloomington in 1955 as Athletic Director, a role he had during the planning and construction of Memorial Stadium and other facilities. He resigned as athletic director in 1961; in 1989 he was elected to the university's Athletic Hall of Fame.