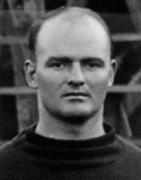 Awards
IUB Athletics Hall of Fame (2001)
Z.G. Clevenger Award (1964)
About Edgar C. Davis
Edgar Clarence Davis played three years of football for the Hoosiers. As a senior, he captained the 1913 team, but a second-game injury at Chicago ended his season. The injury did not end his IU career, however. Davis moved from football into wrestling, where he made his biggest Hoosier impact.
Heavyweight Davis became the first wrestler to win three straight conference championships, captained the Hoosier team his last two years, and led the 1914 team to the school's first Western Conference championship. Six men made up a wrestling team then, and all six Hoosiers contributed to the 15 points that beat Wisconsin's 13 and won the title.
Davis picked up an additional letter as a weightman in track, then entered medical school and stayed with the IU wrestling program as coach for two seasons. He picked up his M.D. in 1919 and, blending in three years of professional football, went on to a distinguished career as a physician in Muncie. He remains the only Hoosier wrestler ever to win three conference championships.