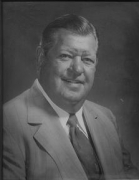 Awards
Z.G. Clevenger Award (1970)
About Robert A. Haak
Robert A. Haak was born on March 26, 1916.
Haak attended high school in Hammond, Indiana, and graduated in 1935. He was honored with the All-Conference Tackle, and was the State Heavyweight Wrestling Champ in 1934. He then attended Indiana University, graduating in 1939. He was honored with the All-Big Ten Tackle in 1938, was part of the starting lineup of 1939 All-Star Game at Chicago, was Indiana University's Most Valuable Player and Grantland Rice 2nd Team All-American in 1938, and he played in first North-South College All-Star Game in Montgomery, Alabama in 1938.
Haak played with the Brooklyn Dodgers during the 1939 baseball season, and served as the Freshman line coach at Indiana University in 1940.
Haak was also Inducted into Indiana Wrestling Hall of Fame on July 30, 1976, and received the Zora G. Clevenger Award in 1970 from Indiana University.
Mr. Haak died November 1, 1992.