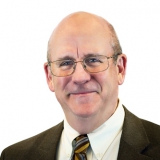 Awards
Z.G. Clevenger Award (2011)
About Thomas Bunger
Thomas Bunger, a 1973 IU graduate, was names a 2011 recipient of the Z.G. Clevenger Award. This prestigious honor is for I-Men alumni who have made outstanding contributions to IU through service to its athletic program.
Bunger has volunteered his services to the IU athletics department for a number of years. As an undergraduate, he served as the football manager, and as an alumnus, he is responsible for setting up and monitoring the wireless headsets system, Coach Com, used by the football team staff. For the past eight seasons, he has overseen the headset communications, strictly on a voluntary basis. Nearly every year since its inception, Tom has attended a two-day training course in order to keep up to date on the units and ensure the system works properly for coaches and staff.
Bunger has received other honors; he is a member of the Order of Constantine, the highest honor Sigma Chi bestows on its members, and he serves on the Campaign Advisory Board. For a number of years, he also served with the Lambda Chapter House Corporation.
Bunger received a bachelor of science and a J.D. from IU, and works as an attorney with his firm Bunger & Robertson in Bloomington.