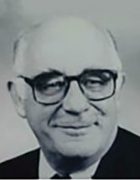 Awards
Honorary Degree (1987)

L.H.D.
Doctor of Humane Letters
Commencement
Bloomington, Indiana
Presenter: John William Ryan
About Warren James Haas
For the past two decades, Warren James Haas has been at the forefront of creative library planning and innovative developments in library service. Under his leadership as president, the Council on Library Resources has become a powerful force for change in library functions, and in the enhancement of research libraries and their role in advancing scholarship and learning.
Mr. Haas received the Bachelor of Arts from Wabash College in 1948. Following service in the United States Army Air Corps during World War II, he enrolled at the University of Wisconsin and received the graduate Bachelor of Library Science degree in 1950. His first professional position was as head of branch libraries of the Racine, Wisconsin, Public Library. In 1952 he joined the library staff of The Johns Hopkins University as acquisitions librarian and later as assistant librarian. In 1959 he became library consultant to the Council of Higher Educational Institutions of New York, and in 1961 began his long association with Columbia University as associate director of libraries. Mr. Haas remained at Columbia until 1966, when he joined the University of Pennsylvania as director of libraries. He returned to Columbia University in 1970 as director of libraries and in 1972 became vice president for information services and university librarian. His brilliant contributions to the reorganization of the library system at Columbia, as well as his service as a member of the Board of Directors of the national Council on Library Resources, resulted in his appointment as president of the Council in 1978.
Through his work with the Council, Mr. Haas has brought about significant improvements in library resources and services throughout the nation, and has been at the center of the innovative and successful restructuring of research libraries in response to a new range of challenges and possibilities. He has provided leadership at a critical period in the evolution of libraries in the United States, a period in which new information technologies and the expansion of knowledge and interdisciplinary study are transforming the nature of research libraries and stimulating their integration into a national system.
Never content to confine his vision to the parochial or the immediate, Mr. Haas reorganized the programs and funding of the Council to address a series of national concerns integral to the health of American scholarship and intellectual activity. He urged university librarians to take the lead in defining the role of the library for their institutions, and more broadly for an international community of scholars and researchers. Recognizing very early the need for broad cooperative programs among libraries and their institutions, he promoted projects that have resulted in a growing national and international research library network.
In pursuit of this goal he has cast a broad net to convince university officers, corporate leaders, and government officials of the fundamental significance of research libraries to the academic enterprise, and to involve them directly in the Council's programs. In addition, he has greatly increased funding for the work of the Council by private foundations, especially in computer technology, scholarly communications, library resources, preservation, and library education and management. In the area of preservation of aging and brittle library books and other documents, Mr. Haas was among the first to push for a national approach to what he accurately predicted would become a major problem for American libraries. He established the national Commission on Preservation and Access. This group, which engages in a variety of cooperative endeavors, has resulted in funding for the establishment of regional preservation facilities that will be equipped to do preservation work on a broad scale.
He has long taken a personal interest in library education. In accord with his belief that the nature of the profession must be defined so as to attract the best young minds from liberal arts programs, he has stimulated significant improvements in professional education on behalf of schools of library science across the country.
The list of organizations that have benefited from Mr. Haas's direction or membership includes virtually every national group in the field and numerous international organizations. Among other significant contributions is his leadership in establishing and guiding the Research Libraries Group, an inter-institutional corporation of some thirty members devoted to developing a comprehensive bibliographic system for the United States. His counsel and advice have been sought by library systems in Europe, Japan, and China, as well as by national libraries in the United States, architectural firms, universities, consortia, and foundations. He is the author of several dozen articles and studies in library science and administration. The prestigious honors that Mr. Haas has received include the Melvil E. Dewey Award of the American Library Association in 1984, the International Federation of Library Associations and Institutions Medal in 1985, and election to the American Association for the Advancement of Science in 1986.
Warren James Haas is a person of vision, incisive perception, and unwavering commitment to the importance of research libraries in the scholarly enterprise. Perhaps his greatest contribution is his capacity to transform his vision into action by serving as a dynamic agent for change in a highly traditional enterprise.