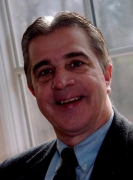 Awards
Z.G. Clevenger Award (2007)
About Steve Ahlfeld
Dr. Steven K. Ahlfeld has been an orthopaedic surgeon in private practice in Indianapolis since 1984. He is a recognized leader in Orthopaedic Surgery and Sports Medicine. He has performed surgery on numerous professional and scholastic athletes. Certainly, his professional success today has been helped by his personal experience as a college athlete.
While attending Indiana University, Ahlfeld was a member of the basketball team, and a member of three consecutive Big Ten Championship Teams. After graduation, he attended Indiana University School of Medicine, receiving his medical degree in 1979. Ahlfeld then completed his specialty fellowship training in Sports Medicine at the University of Oregon.
Dr. Ahlfeld is a member of the American Orthopaedic Society for Sports Medicine, and the Arthroscopy Association of North America. He is a member of the Indiana State Medical Association, as well as numerous other societies and professional associations. He has served on a national expert panel on the topic of basketball injuries presented by the American College of Sports Medicine, also serving as Chief Medical Officer for the Pan American Games in Indianapolis.
In 1996, Dr. Ahlfeld was honored to be named to the Indiana University Basketball Hall of Fame Silver Anniversary Team, and in 2007 was the recipient of the Z.G. Clevenger Award.