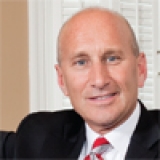 Awards
Z.G. Clevenger Award (2005)
About Ron Remak
Ron Remak is no stranger to Indiana University. The Bloomington native is a 1979 alumnus of IU and is currently the Varsity Club Board president. Remak has, is and always will be one of Indiana's most enthusiastic and involved supporters. While at Indiana, Remak was a member of the Phi Gamma Delta fraternity, captain of the men's tennis team and member of the Student Foundation's Steering Committee to name a few.
Remak's involvement and dedication to the University, especially to athletics, has not wavered since his graduation. Remak has served on the Alumni Association Executive Council and Insurance Committee, as well as the Varsity Club Board's treasurer and now president. Along with his duties on various boards and committees at IU, Remark was instrumental in selecting athletics director Rick Greenspan and head football coach Terry Hoeppner in 2004. Remak received IU's Z.G. Clevenger Award in 2005, in recognition of his outstanding contributions to IU through service to its athletic program.
Professionally, Remak splits his time between Bloomington-based Bill C. Brown Associates, the agency he bought in 1997, and working as a practicing producer. Remak's passion for the daily grind has paid off. He's a life member of the Million Dollar Round Table. He's been named nine times to AUL - OneAmerica's Chairman's Council, which is made up of the company's top 12 agents in the country. And he took home NAIFA's Jack Peckinpaugh Associate of the Year award in 2003.