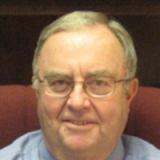 Awards
Z.G. Clevenger Award (2002)
IU Foundation President's Medallion (2002)
About Thomas M. McGlasson
Thomas "Tom" McGlasson graduated from IU Bloomington in 1965 with a B.A. in Government and earned his law degree from the IU School of Law in 1968.
After law school, Tom was the IU Foundation's general counsel for a quarter-century, and corporate secretary for several years, while serving Foundation presidents Bill Armstrong, George Pinnell, and Curt Simic. McGlasson initiated the IU Foundation's planned giving program, was involved in the Foundation's real estate holdings, and provided significant oversight of the IU Student Foundation.
In 1993, Tom entered the private practice of law with the firm known now as Jones, McGlasson, and Freitag, P.C. in Bloomington. As an estate planning attorney, Tom has had the opportunity to assist many of his clients in their support of Indiana University. McGlasson remains closely connected to the Jesse and Beulah Cox Scholars Program, the university's largest privately-funded scholarship fund, which benefits students at IU Bloomington and IUPUI.
Tom has served as a member of the IU Varsity Club National Board of Directors, the Maurer School of Law Alumni Board, and the IU Student Foundation's Board of Associates for many years.
Alongside his wife, Susie, they are life members of the IU Alumni Association and have generously supported many IU schools and programs, including IU Athletics, Maurer School of Law, IUAA, IU Student Foundation, School of Education, and Wells Scholars Program to name a few.
They are members of the Arbutus Society (which Tom helped create in the 1980s), Friends of Music, and the Presidents Circle. In 2002, he was presented the IU Foundation President's Medallion.