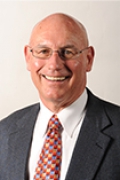 Awards
IUB Athletics Hall of Fame (2017)
Z.G. Clevenger Award (2001)
About Kenneth W. Kaczmarek
Governor Mitch Daniels appointed Ken Kaczmarek to serve on the Indiana Port Commission in August, 2005. Kaczmarek has tremendous experience as a senior executive for Fortune 500 companies in the United States and abroad and he had served as interim executive director of the Ports of Indiana from April to August of 2005. He also served as acting commissioner of the Department of Natural Resources for the Daniels administration during a transition period.
Kaczmarek, a South Bend native, is a partner with Elliott & Associates, an investment firm in Bloomington. Previously, he was president of American Re-Asset Management, chief information officer for American Reinsurance and chief financial officer for Merrill Lynch Insurance Group and Blue Cross of California.
Kaczmarek holds a BS in accounting (1968) and a MBA (1971) from Indiana University. He is a Certified Public Accountant and a member of the American Institute of Certified Public Accountants and the Indiana CPA Society.
He helped the Hoosiers to the 1967 Big Ten title. The first Indiana linebacker to earn All-America honors, Kaczmarek played football at Indiana University from 1964 through 1968 and was on the Hoosiers' 1968 Rose Bowl team (ranked fourth in the nation). In his last game at Bloomington, the defensive standout caused a fumble near the goal line in the final seconds to secure Indiana's victory over Purdue University and seal their Rose Bowl bid.
Kaczmarek finished his senior campaign, with 118 stops, nine for loss, two interceptions and one forced fumble. In 1966, Kaczmarek also led the club and finished sixth in the conference with 92 tackles to go along with two fumble recoveries, one forced fumble, and one interception. Upon the conclusion of his IU career, he played in the 1968 Hula Bowl.