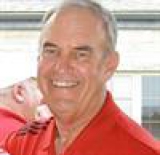 Awards
IUAA President's Award (2018)
IU Foundation President's Medallion (2002)
Z.G. Clevenger Award (2000)
About E.G. White, Jr.
For most of his adult life, E.G. White worked for the IU Foundation, stewarding and guiding donations from alumni to their philanthropic causes for Indiana University. During his I Association presidency, White was a driving force to merge the two lettermen groups, the I Men's Association and the I Women's Association, under one umbrella of the I Association.
In 2000, White was awarded the Z.G. Clevenger Award, the highest honor that is bestowed upon a living I Man for lifelong service to Indiana University after one's playing days are over. He received the IU Foundation President's Medallion in 2002 and was inducted into the State of Indiana Football Hall of Fame in 2007.