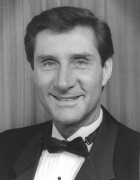 Awards
IUB Athletics Hall of Fame (2006)
Z.G. Clevenger Award (1997)
About Jon P. McGlocklin
Jon P. McGlocklin was born in Franklin, Indiana. At Franklin High School McGlocklin was an MVP and scoring championship of the South Central Conference. He was named to All-State team as a senior, in 1961.
A sharpshooting 6'5" guard from Indiana University, he was selected by the Cincinnati Royals in the third round of the 1965 NBA Draft. He is best known for his 8-season (1968 - 1976) tenure with the Milwaukee Bucks, with whom he won an NBA Championship in 1971. He scored 9,169 points in his NBA career and was named to the All-Star team. His #14 jersey has been retired by the Bucks franchise. Jon was best known for his high-arcing "rainbow" jump shot. He was selected as one of the Top 50 Basketball Players of the 20th Century in the state of Indiana, as well as being inducted into the Indiana Basketball, Wisconsin Basketball Coaches Association, and Wisconsin Sports Hall of Fames.
After two seasons in Cincinnati and one in San Diego, McGlocklin was selected by the Bucks in the 1968 expansion draft. He was the leading scorer on the inaugural Bucks team (19.6 ppg) and became the first player to represent the Bucks in an All-Star Game. In 1970-71, he was the starting shooting guard on the storied Bucks team that won 66 games and stormed through a 12-2 postseason en route to a World Championship. McGlocklin shot 53.6 percent in those 14 games, and averaged 14.9 ppg.
After the championship season, McGlocklin logged five more years in a Bucks uniform. He retired after the 1975-76 season having appeared in 595 games for the Bucks - a total surpassed by only three other players. In eight seasons, he averaged 12.6 ppg for Milwaukee. McGlocklin's name still graces the Bucks All-Time Leaders list in points (12th, 7,505), minutes (9th, 17,008), field goals made (10th, 3,315) and attempted (10th, 6,561), and free throw percentage (6th, .860).
For the last 25 years, McGlocklin has been a member of the Bucks' television broadcasting team alongside Jim Paschke. An original member of the team, he remains a fixture in the organization. On the night of his retirement in 1976, Jon founded the MACC Fund, which has become nationally recognized in its fight against childhood cancer.