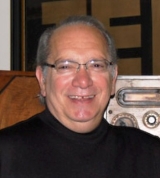 Awards
IUPUI Spirit of Philanthropy Award (2004)
Z.G. Clevenger Award (1997)
Kelley School of Business Distinguished Entrepreneur (1986)
About Arthur A. Angotti, Jr.
Arthur Angotti attended Indiana University on a track scholarship. During his college career, he was a letterman and held indoor records in the 1,000 meter run. He later received the Clevenger Award from the Indiana University Athletic Department.
Upon graduation from Indiana in 1966, Mr. Angotti was commissioned as a Second Lieutenant in the United States Army. In 1967, while serving in Vietnam as an armored cavalry platoon leader, he was wounded in a rocket attack and lost much of his vision and hearing. He was awarded the Purple Heart and several other decorations while in the Armed Services.
Angotti returned to Indiana University in 1968 and received an MBA degree. He began a career in venture capital that started in Philadelphia and later brought him to Indianapolis, where he lives now. He was a founder and Director of several significant companies, including Indianapolis Cablevision, Indianapolis Cellular Telephone Company, Artistic Media Partners and Syndicate Systems Inc. He formed and managed four successful venture capital funds. Mr. Angotti was awarded the Distinguished Entrepreneur Award from the Indiana University School of Business.
From 1974 to 1979 he was Associate Professor of finance at Butler University. He also served on the Washington Township Board of Education in Indianapolis for eight years, serving as its president for two terms.
Mr. Angotti assumed the radio broadcast contract for Indiana University in 1992 on behalf of University Sports Radio Network because the prior holder of the contract did not want to continue to carry IU sports. He immediately contracted with Coach Knight for the exclusive rights to his pre-game and weekly radio broadcasts.
Mr. Angotti is the founder and CEO of Artistic Media Partners, Inc., a radio broadcasting company that operates 14 radio stations in Indiana including the flagship stations for the Indiana, Notre Dame, and Purdue University sports radio networks.