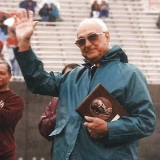 Awards
Z.G. Clevenger Award (1993)
About Richard H. Schmalz
Richard H. Schmalz was born in Patricksburg, Indiana, in 1918. His family moved to Bloomington in 1926 and he graduated from Bloomington High School in 1936. He received his B.S. degree in Business Administration from Indiana University in 1940. While at the university, he was a member of the Kappa Sigma fraternity, the Sphinx Club and the Inter-Fraternity Council. He was also an I-Man, acting as a senior manager of the baseball team. At the outbreak of WWII he joined the U.S. Air Corps, where he became a first lieutenant. He spent three years in the South Pacific and was one of the first troops to arrive in Australia in 1942.
Following the war, Richard returned to Bloomington and married Sue Corter in 1946. He also became a partner in the family business, Schmalz's Department Store, which later expanded to other stores in Bloomington, Martinsville, Salem and Bloomfield. He went on to become the co-owner and president of Bloomington Vendors Inc. Richard was also a founding member of Public Investment Corporation and served this organization in various capacities for more than 50 years.
Richard was very active in the local community, joining the board of directors of the Chamber of Commerce and eventually holding the positions of treasurer and vice president. During his time on the board, Bloomington was named an All-America City by the National Civic League. He also served terms as president of the Bloomington Lions Club, the Commission for Bloomington Downtown and the City Plan Commission. He served as a member of the City Department of Redevelopment for 24 years and was on the board of the First United Methodist Church. Richard was recognized for his service to Bloomington by the United Way, which named him Man of the Year in 1984. He also received Bloomington Mayor's Volunteer Award in 1986 and Bloomington Mayor's Award for Excellence in Civic Engagement in 2008.
Indiana University was a lifelong passion for Richard. He served as a past president of the IU Alumni Association from 1970 to 1971. He was as a member of the IU Athletics Committee, where he served on search committees to find a football coach and an Athletic Director. He was also a member of the Woodburn Guild, the Hoosier Hundred, and the Well House Society, and was a founding member of the IU Varsity Club's Loyalty Club. He received the 50-year I-Man Award in 1990, the Z.G. Clevenger Award in 1993, and was named to the IU President's Circle in 2007. Richard and his wife Sue's love of IU inspired all three of their children and two of their grandchildren to attend and graduate from the university.